Welcome to the Pinckney, Putnam, Hamburg, Hell Chamber of Commerce!
Pinckney, Putnam, Hamburg and Hell are small towns with big hearts and community involvement to match. The Chamber is comprised of community leaders and local business owners leading the way, putting their energies toward everything from improved infrastructure to family festivals, parades and other special events that help draw people together. As a division of the Greater Brighton Area Chamber of Commerce, we are able to provide more services, organizational development, network opportunities and advocate on your behalf to advance the businesses and help you succeed.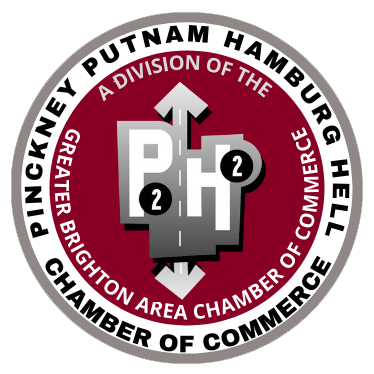 As a member of the PPHH Chamber you are eligible to attend any event offered by the Greater Brighton Area Chamber, opening the door for greater opportunities for your business. With hundreds of business offerings a year, you may attend events, participate in organizational development to achieve your business goals.
From unleashing that child within you and hopping on a bike to cycle across the 26-mile stretch of Lakeland Trail State Park, to strapping on your cross-country ski's, horseback riding, snowmobiling, mountain biking, swimming, boating and fishing all abound at the Pinckney Recreation Area. Pitch a tent and stay awhile or consider shopping and dining in the charming village of Pinckney.
These lovely small towns are surrounded by wooded areas and farmland, with several lakes interspersed. The natural beauty of the area has long made it a destination for people who love the outdoors, drawing visitors from all over the world. Hell, Michigan is one of the largest attractions in all of Michigan.
The tiny hamlet of Hell is a major draw for tour buses that travel to Livingston County from across the country. Visitors may be initially attracted to the unusual name of the destination, but the area's natural beauty and the friendliness of the locals is what they remember. It is also one of the most picturesque locations in southeastern Michigan. With rolling hills, streams, rivers and lakes perfect for canoeing and outdoor recreation. If horseback riding is your sport of choice, Hell Creek Ranch awaits you!
Community leaders have organized a variety of festivals; the Hamburg Family Fun Fest, Pinckney's Art in the Park and Railroad Days in Hamburg. There are also festivals to celebrate the 4th of July, St. Patrick's Day, Halloween and more.
The area offers many entertainment and organized recreation opportunities. The Pinckney Players, Twins Masks and Pinckney Community High School offer numerous concerts and productions throughout the year. There are organized sports programs for both adults and youth as well.
There is always something to do in these charming, unspoiled small towns in America's heartland.
The Pinckney Putnam Hamburg Hell Chamber of Commerce is host to a number of community events, which support chamber members and the community. Providing opportunities to sponsor and grow your brand and business.
 We take on the biggest challenges so you can focus on your business. Review the benefits below and submit the form today to learn more. 
Membership Benefits at a Glance
Are you opening a new business or expanding an existing one? New location? New Product line?  Celebrating a major milestone? 
A ribbon cutting is a great way to market and advertise your business. Kick-off a grand opening or celebrate opening a new addition or reaching a milestone with a ribbon cutting. It offers a unique opportunity to meet key leaders and fellow members of your community. 
We'll bring the red ribbon, the giant scissors, add your event to our calendar, promote it through emails and share it on social media. 
To schedule a ribbon cutting, please click the link to complete the form below.
Tips for a successful event:
Invite guests to your event. Including current and potential customers, suppliers, friends and family – and of course employees! The Chamber will invite members, ambassadors and local dignitaries.

 

Make it a party. People love to eat. Provide lunch or light snacks and refreshments.

 

The Chamber will prepare a brief program. The CEO will recognize key individuals, provide opportunity for guests to introduce themselves and their business and finally for you, the business to share your story.
Entice people to come. Have a raffle for guests to win branded items or have gift bags for attendees. Provide special promotion in the gift bag to encourage guests to revisit your business to try your product or services.
Let people know. We'll email our members and share with the local media. Share it with your list of contacts and on your social pages.