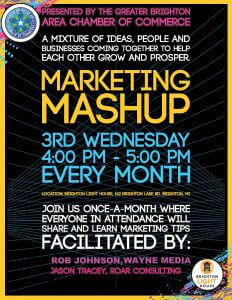 A mixture of ideas, people and businesses coming together to help each other grow and prosper.
This marketing group meets once-a-month, the third Wednesday, at Brighton Light House to share and learn marketing tips -  everything from social, digital, website, SEO, email, CRM's, drip campaigns, you name it!
There will be an expert facilitator each month along with Julanne Williams, Director of Business Development, moderating, to help launch this new concept and lead and guide discussions.
Note: Chamber membership required. (We'd love to have you attend the first one as a future member but require you to be a member to attend additional Marketing Mashups.)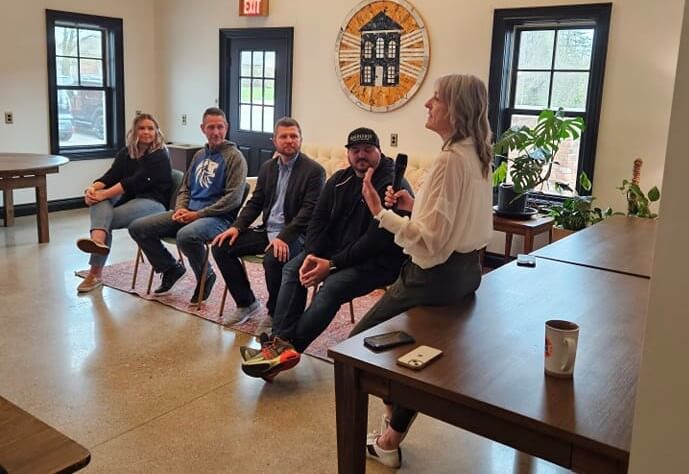 Keep me in the loop!
We'll send you email updates on upcoming Marketing Mashup topics, resources and link to videos.
Hosted on YouTube - The Greater Brighton Area Chamber of Commerce
Resources:
April. Top 3 Things You'd Recommend Businesses do to market their business. Facilitators: Rob Johnson, Wayne Media Group, Jason Tracey, Roar Consulting, JJ Zielinski, Lakehouse Studios and Maddie Shelton, Keep it real social
May. Referrals and Partnerships. Facilitators: Jason Tracey, Roar Consulting, Rob Johnson, Wayne Media Group and Cheryl Wasilewski, JCW Marketing & Sales
June. Google Analytics: Transfer UA to GA4. Facilitator: Rob Johnson, Wayne Media Group
July.  Marketing Metrics. Facilitator: Sommer Poquette, Keep it Real Social
August. Videos + Audio to Make Your Marketing Sizzle
September. Increase Leads by 220% in 3 Months. Facilitator: Lisa Smith, President of Inverve Marketing and Angelique, Creative Director
October. AI: Trend or Tool
November. Bouncing into the New (Sales) Year! Facilitator: DJ Kaminski,  Sales Executive, Consultant and Instructor 
December. It's a Party! (Bring your Marketing tips, Marketing Collateral, Promotional Items) Share what worked for you this year!
January 2024. What is a Successful Year? Marketing Metrics
February 2024.  Love your Customers. Keep/Grow your Current Customers. Brand Loyalty
March 2024. Lucky: Where Preparation meets Opportunity. Marketing Strategy. Are you tracking and analyzing the data…and responding to it?
The following link is to the video from the most recent Marketing Mashup. It will be available for one-week following event.
Understanding Marketing Metrics
Grow your brand and prosper!