Smokin' Jazz & BBQ Blues Festival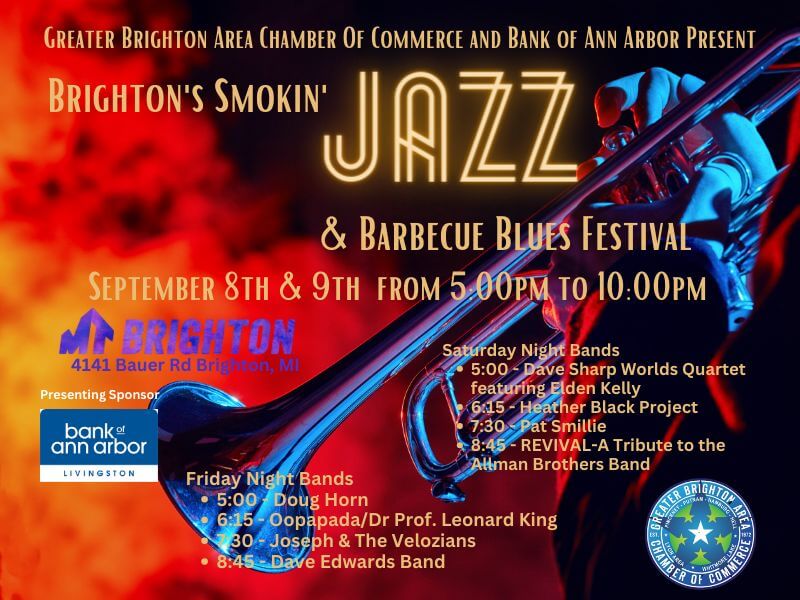 The Greater Brighton Area Chamber of Commerce and Bank of Ann Arbor Livingston are pleased to present the Brighton's Smokin' Jazz & Barbecue Blues Festival this September.  There has been a change in venue, due to Construction in Downtown Brighton.
This year we will be at Mt Brighton.  4141 Bauer Road Brighton, MI  48116
Event hours are Friday September 8, 2023 5:00pm - 10:00pm and Saturday, September 9, 2023 5:00pm - 10:00pm.
Award winning barbecue will  be smokin' up the Mountain; serving up ribs, pulled pork, beef brisket, pork tenderloin, sweet treats, specialty mac n' cheese and much more. Come and check out some amazing vendors!
What we will have:
There will be four bands playing each evening.
Availibility to purchase food from a variety of food trucks for your dining pleasure.
There will be a mechanical bull for the adventurous.
and more
What we will not have:
Weapons of any kind (There will be metal detectors at the entrance to the venue)
No Tailgating in the parking lots
No outside food or drinks
We love our pets, but no animals are allowed.
Please note:
The event venue takes credit and debit cards only.  The food trucks may take cash.
Ticket Pricing:
$15 for General Admission.
$40 for Center Stage-VIP (Includes access to open seating in front of the stage. Access to tented hospitality areas with bar service. Access to VIP deck.)
Tickets are only available through the link above (Eventbrite).   You will be able to purchase etickets at the event through the website. (Provided that it is not sold out).
Thank you to our 2023 Sponsors. We couldn't do it without you!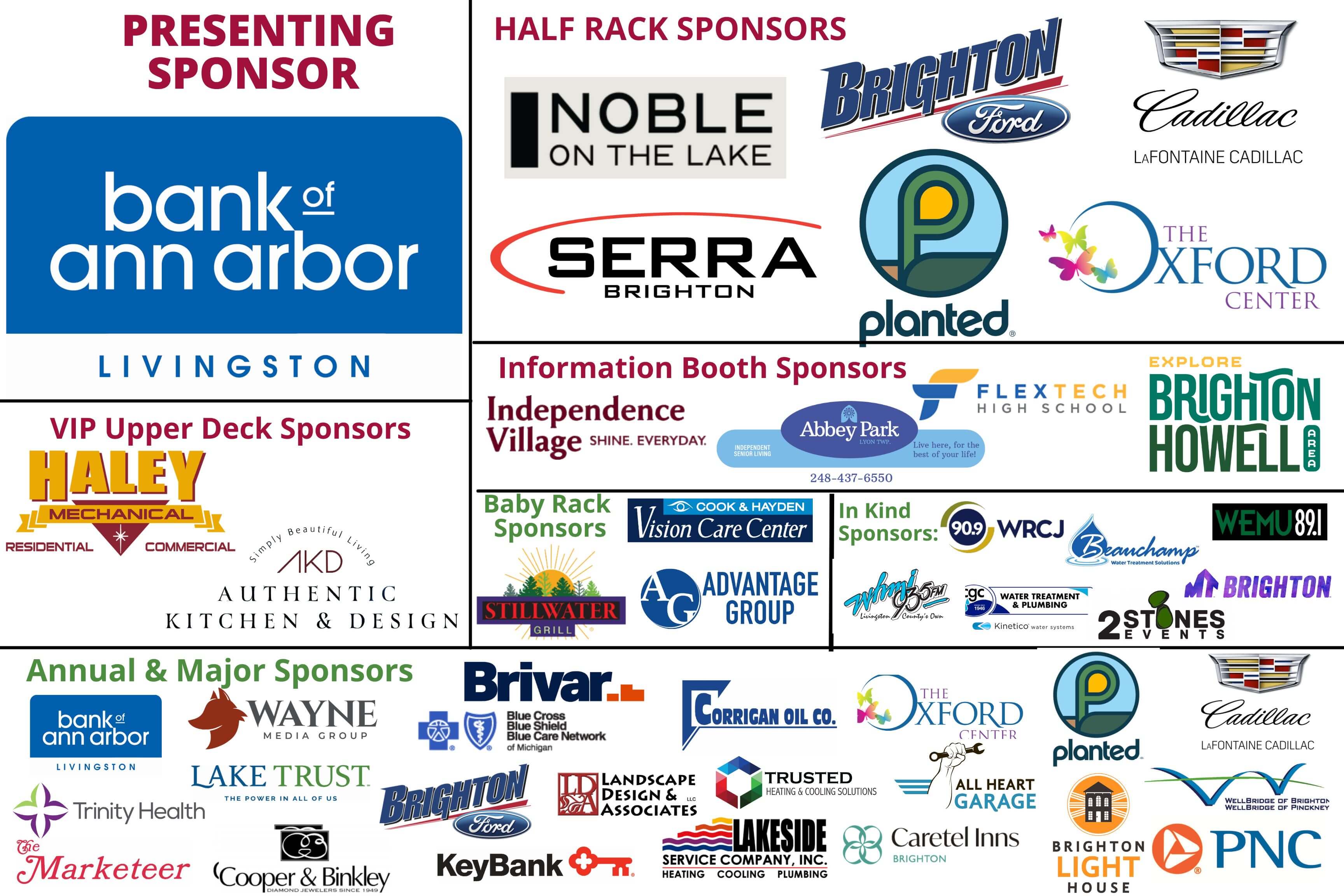 Brighton's Smokin' Jazz & Barbecue Blues Festival 2023
FRIDAY
5 p.m.
Doug Horn
Well versed in the musical styles of bebop, swing, Latin, blues, and ballads, Doug Horn has been performing for 41 years in Michigan and around various parts of the world.
His style reflects influences from such jazz giants as Charlie Parker, Cannonball Adderley, Phil Woods, Dexter Gordon, and Stan Getz.
Though known for his love of hard-swinging bebop, he is also a gifted balladeer. His solos are emotional and harmonically lush, and often laced with musical quotes from other songs. Horn's array of instruments includes alto, tenor, and soprano saxes, flute, alto flute, and piccolo. Among the notable musicians he has performed with are Phil Woods, Jimmy Forrest, Clare Fischer, Claude Black, Eddie Russ, Clark Terry, Marcus Belgrave, Jack McDuff, Bill Watrous, Don Menza, and Dizzy Gillespie.
Horn performs in several formats, including duo, trio, quartet, quintet, and six piece mini-big band. For Smokin', he will be joined by longtime friends and seasoned veterans Paul Keller on acoustic bass; Tony Viviano on keyboard, and Jimmy Ryan on drums. These performers have worked with each other spanning a period of 50 years.
6:15
Oopapada/Dr. Prof. Leonard King
Drummer/vocalist/composer Leonard King Jr. (aka Dr. Prof. Leonard King) founded Oopapada as a trio featuring organ, guitar, and drums/vocals in March 1995. The instrumentation and personnel remained the same for several years. King became a professional musician at age 12 in 1960 — an era when Hammond organ groups and venues were plentiful, especially in metro Detroit, Mich. The city was a part of a geography of cities loosely known as The Midwest Organ Belt in which King grew up digesting this music among other styles.
As technology changed and performance venues became refocused, organ groups became rare with less musicians learning the instrument. As a result, King opted to switch to a different instrumentation with a horn section and a rhythm section consisting of keyboards, bass, and drums/vocals. The thickness of the music remains intact.
King continues to be active in his chosen profession for well over 60 years and counting, which includes ownership of production, publishing, and record companies. In addition to Oopapada, King also operates the Dr. Prof. Leonard King Orchestra (16-pieces), and Proportioned Orchestra (four double basses with drums/vocals).
7:30
Joseph & The Velozians
Professional Detroit blues bassist Joseph Veloz has spent decades touring and recording with great acts such as Larry McCray, Thornetta Davis, Lucky Peterson, Matt "Guitar" Murphy, Eddie Kirkland, Joanne Shaw Taylor, Mississippi Heat, Sherman Robertson and many more around the world. Using more than 25 years of experience in the music industry, he produced two solo albums and has formed Joseph And The Velozians, a super group of Michigan's top professional musicians who present a new unique blend of modern blues, R&B, Americana, and funk music into their original songs and revamped classics.
Joseph And The Velozians shine both instrumentally and vocally through their talented members. A rising star in the Detroit music community, Robyn Crongeyer's vocal abilities can only be matched by her performance as an incredible keyboardist. Multi blues music award-nominee Greg Nagy adds his smooth, soulful voice and guitar playing to create a richer dimension to the music. The Velozian experience is held together by the world renowned, legendary drummer Steven McCray, who is the epitome of modern blues and funk drumming. With the combination of these four performers, the Velozian funkship will leave you with the experience of an interstellar, sonic ride and you will be looking forward to sonic experiences yet to be discovered!
8:45
Dave Edwards Band
The original lead singer from the Detroit band The Look, Dave Edwards last year released a tribute to Delbert McClinton called Every Time I Roll The Dice, which earned a 2023 Detroit Music Award for Outstanding Blues Recording. Edwards is considered one of the best Detroit rock-n-roll voices of all time. The Look, formed in 1977, incorporates elements of pop, rock, country and blues. They were inducted into the Michigan Rock and Roll Legends Hall of Fame in 2015 and are still being led in 2023 by the original lead singer, songwriter and guitarist, Edwards, a 14-time Detroit Music Award nominee.
This new collection of songs from Delbert McClinton's vast catalog -- a mix of rock, soul, blues and country – will be performed live at Smokin' and will be available for purchase. Produced, recorded and mixed by Motor City Josh at The Sound Shop Studio in Macomb, Mich., a top-notch list of musicians on the recording will play the songs plus a couple of The Look's hits.
The band includes Edwards, lead vocals; Todd Glass, drums and percussion; John Barron, bass; Bob Monteleone, guitar; Motor City Josh, guitar and washboard; Dale Grisa, keys; Tosha Owens, vocals; Raye Williams, vocals; John Rutherford, trombone and tuba; Keith Kaminski, saxophones flute and clarinet; and Walter White, trumpet.
SATURDAY
5 p.m.
Dave Sharp Worlds Quartet featuring Elden Kelly
Recognized in the Jazz Times Critic's Poll, the Dave Sharp Worlds Quartet masterfully blends rhythms, sounds, and textures from across the globe with world music inspired original compositions. Featuring oud, violin, guitar, electric bass, synthesizer and world percussion, the Worlds Quartet is fueled by the spirit of jazz, world music and dynamic exploratory improvisation.
Bassist, composer and bandleader Dave Sharp leads the band to explore music traditions from Turkey, Egypt, Ukraine, India, Bulgaria and Greece. Worlds Quartet is joined by special guest Elden Kelly, a seasoned jazz improviser, and a highly-skilled, solo guitar fingerstylist, composer and songwriter. With a strong grounding both in traditional genres and fusions, Kelly mixes classical, world music and jazz and his nylon string guitar and exotic-sounding 11-string fretless guitar evoke traces of Latin, American roots, flamenco, and Indian music underpinned by modern swing, African polyrhythms and cross-cultural grooves.
The quartet has appeared at Detroit Jazz Festival, Lansing Jazz Fest, Concert of Colors Detroit, Ann Arbor Summer Festival, Bach Music Festival, Lansing Harmony Celebration Lansing, Rasa Indian Arts Festival Ann Arbor, and intimate venues such as Kerrytown Concert House in Ann Arbor, Music Hall Jazz Cafe Detroit, UrbanBeat Events Center Lansing and Riverfolk Music and Arts Blacksmith Shop Concert Series in Manchester.
6:15
Heather Black Project
Inspired by cosmic frequencies, Heather Black Project is a collective of musicians that honor vintage jazz and blues and frequently incorporate modern soul and R&B grooves. The Project is led by vocalist Heather Schwartz and features a unique and rotating cast of highly-skilled artists from Southeast Michigan.
Black has a versatile performance career spanning over 20 years. She attended Interlochen Fine Arts Camp in Northern Michigan and continued her studies as a vocal performance major at the University of Michigan, School of Music. During her college years, she really started to expand outside of the classical realm, and developed concepts for her own productions inspired by vintage jazz culture. She lists Bessie Smith, Billie Holiday, Dinah Washington, Ella Fitzgerald, and Erykah Badu as her chief influences.
In 2008, Black began producing her own shows in unique venues. After many successful productions, in 2012, she established the Heather Black Project for a weekly gig and more than six-year residency at The Ravens Club in Ann Arbor, Mich. The HB Project continues to grow and has built a loyal following in the process.
Whether crooning of love, or belting the blues, Black soulfully sings, always conveying a deeper message and securing her audiences' rapt attention. This performance will feature Michigan's Ingrid Racine, trumpet; Josef Deas, bass;  Chuck Newsome, guitar; and Nick Collins, drums.
7:30
Pat Smillie
Native Detroiter Pat Smillie moved to Chicago in 1992 where he cut his teeth as a live performer at the legendary Checkerboard Lounge (and other venues) on the city's south and west sides. Over the years, the vocalist/songwriter served as an opening act on shows and festivals for music legends including Robert Cray, Tyrone Davis, Koko Taylor, Mitch Ryder, and Bob Seger & the Silver Bullet Band. He also toured Europe in 2011.
In 2015, Smillie moved back to Detroit. He has since collaborated with producer, Motor City Josh, writing and producing two critically acclaimed albums: Lonesome for a Long Time (2019) and Last Chance (2021). He performs regularly with legendary Detroit guitarists Jim McCarty (Mitch Ryder & The Detroit Wheels, Cactus, and The Rockets) and Dennis Coffey (a member of Motown's Funk Brothers). Since returning to Detroit, Pat Smillie has been nominated for four Detroit Music Awards (DMAs).
"Growing up in Detroit, a lot of my early influences were rock and roll," said Smillie. "I've also always been inspired by all the great soul acts and Motown artists."
Smillie's nine-piece includes heavyweight Detroiters Todd Glass, drums; John Barron, bass; Evan Mercer, keys; Johnny Rhoades, guitar; and Keith Kaminski, saxophone.
8:45
REVIVAL – A Tribute to the Allman Brothers Band
REVIVAL is Detroit's A-list musicians playing tribute to the Allman Brothers, featuring guitar wizards Brett Lucas and Kris Kurzawa, respectively in the Duane Allman/Dickey Betts roles. Experience all the classic Allman Brothers hits such as "Midnight Rider", "Ramblin Man", and "Whipping Post" as well as deeper cuts that made the band southern rock legends.
Lucas and Kurzawa are joined by a group of virtuosic musicians including a two-drummer lineup that captures the magic improvisation pioneered by the classic Allman Brothers Band: Rob Avsharian and Jesse Kramer, drums; Mark Harper, keys; and John Barron, bass.