Smokin' Jazz & BBQ Blues Festival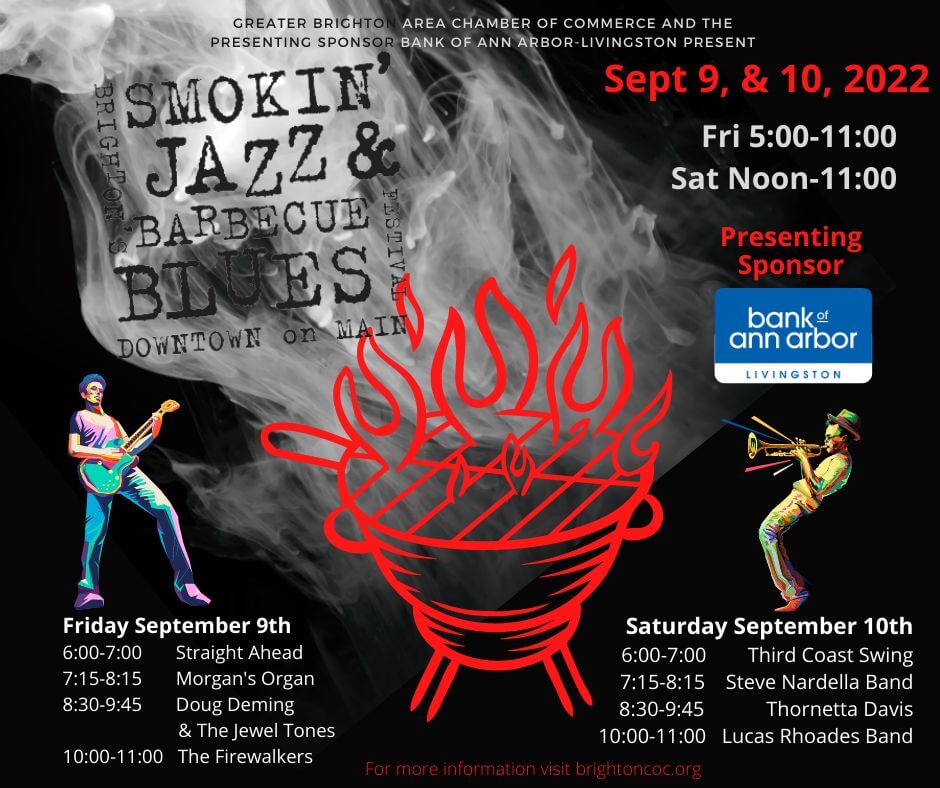 The Greater Brighton Area Chamber of Commerce and Bank of Ann Arbor Livingston are pleased to present the 16th Annual Brighton's Smokin' Jazz & Barbecue Blues Festival this September in Downtown Brighton. Event hours are Friday September 9, 2022 5:00 - 11:00pm and Saturday, September 10, 2022 noon - 11:00pm.
Award winning barbecue will once again be smokin' up Main Street from Grand River to First Street; serving up ribs, pulled pork, beef brisket, pork tenderloin, sweet treats, specialty mac n' cheese and much more. Come and check out some amazing vendors!
Jazz and blues will be live at the beer tent located on Mill Pond Lane (in the municipal parking lot behind Great Harvest Bread Company) both Friday and Saturday 5:00pm - 11:00pm. The 2022 Brighton's Smokin' Jazz & Barbecue Blues line up is anything but average! Entertainment pulls from the best of the best of both local and national jazz and blues bands.
We are excited to have a children's Area on Saturday from noon - 8:00 PM.  There will be interactive games that will be put on by the Boy Scouts of America (Three Fires District) and Selcra.  This is free to all children.
There will also be a 65 foot blow up obstacle course available throughout the event.  (Free, but you must monitor your own children) There will also be a mechanical bull in the Music area.
We will have a cornhole tournament back in the music tent area.  The details are below.  (You will have to pay $5.00 to get into the music area.)  This is not included in the tournament entrance fee.
The Brighton Rotary will be back at this event with their Bingo tent. They will be located on Main Street near the entrance at First Street.  The Bingo tent will be open from 5:00 - 9:30 pm on both Friday and Saturday.  The Brighton Rotary is raising money for many projects that they do locally and abroad.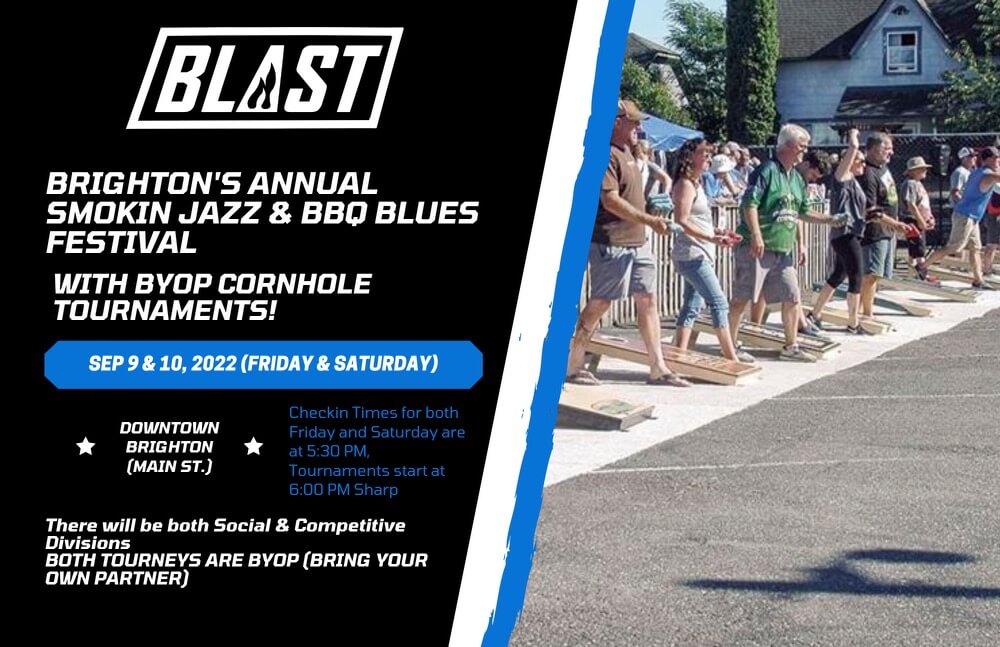 Thank you to our 2022 Sponsors